Easy huevos rancheros recipe
Huevos Rancheros is a classic Mexican breakfast. The story says that this traditional Mexican dish was very popular on Mexican farms. It was given as breakfast to Mexican ranchers after they had completed their chores. It's a great breakfast dish to enjoy on a Sunday morning.
Authentic Huevos Ranchero
The basic dish consists of fried eggs served on lightly fried soft corn tortillas or flour tortillas topped with a pico de gallo. beans Mexican-style rice, slices of avocado, or guacamole and queso fresco. Is usually garnished with cilantro. However, if you are making them at home you can substitute or add different ingredients to your liking.
Make it your way…
If you are not a fan of pico you can substitute it for a salsa verde, green chile sauce, enchilada sauce, or ranchero sauce.
As far as the beans, there are many substitutions you can use. Leftover beans from the night before. Can beans or refried beans you can easily get from the grocery store nowadays. You can use your favorite beans whether they are red pinto beans, black beans, or a combination of both. You could even add some chili to the recipe. To make this recipe your favorite way.
Cheese
Authentic Mexican recipe calls for a cotija cheese which is a firm milk white cheese. Its flavor is salty and milky. It's very similar to feta cheese. Again, you can substitute the cheese for queso fresco, cheddar cheese, Monterey jack cheese or your favorite cheese.
My recipe
My huevos rancheros recipe was influenced by Mexican and Colombian dishes my parent made or dishes I have had at local Latin restaurants. I decided to use pinto beans and guiso or hogao for my recipe. Hogao is a warm salsa that is the base for many Colombian dishes. Is a delicious combination of tomatoes, garlic, white onion some seasoning, and cilantro. For the cheese, I decided to go with queso fresco. This has quickly become one of my favorite Mexican breakfasts.
Ingredients
Can of Pinto
Soft Corn Tortillas
4 eggs
Garlic
White Onion
Tomato
Cilantro
Green Onion
Smoked Paprika
Mrs. Dash's Onions and Herbs
Cumin
Goya seasoning
Chili Powder
Butter
Queso Fresco
Salt and Pepper to taste
Avocado
Directions
In a small saucepan place the beans and add a pinch of cumin, smoked paprika, Mrs. Dash onions and herbs, goya, salt, and pepper to taste. Bring to a boil and simmer for 4-5 minutes.
2. Chop tomatoes, onions, garlic, and cilantro, Place in a medium saucepan on the stove and add a little olive oil at medium-high heat. stir occasionally. Add 1 tablespoon of butter. Once is boiling bring the heat down and let simmer for 4 -5 minutes.
3. Add some of the guiso warm sauce to the beans and stir.
4. In a large non-stick pan at medium-low heat add a little oil and a tablespoon of butter and add your eggs. You can fry the egg sunny side up or over easy. As long as you have a runny egg yolk.
5. In a separate smaller pan on medium heat. Warm-up and slightly toast small corn tortillas.
6. Once warm-up and slightly toasted place on a plate. Place a couple of tablespoons full beans onto the warm tortilla.
7. Place 1 over-easy egg on top of the beans.
8. Add the sauce of your choice. In the recipe, I decided to add the guiso.
9. Add the cheese.
10. Add Cilantro for garnish and enjoy!!
Yield: 2
Huevos Rancheros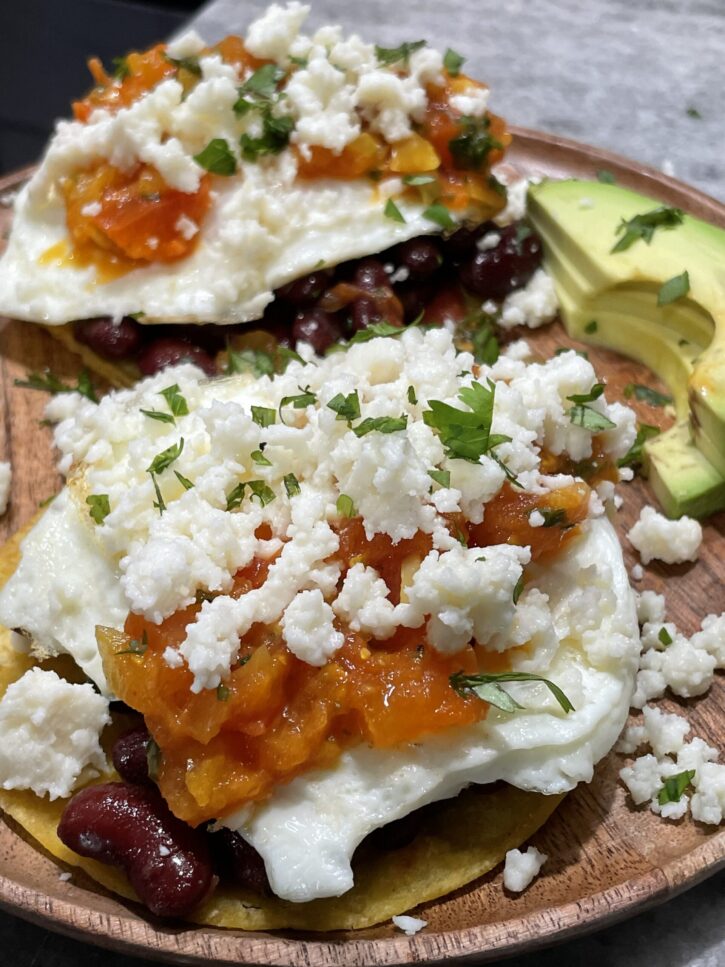 Ingredients
1 Can of pinto beans
4 Soft corn tortillas
4 eggs
1/2 teaspoon garlic
1/2 white onion
1 large tomato
cilantro for garnish and Guiso
Green Onion (optional)
1/4teaspoon Smoked paprika
1/2 teaspoon Mrs. Dash onions and herbs
1/2 teaspoon Garlic chipotle
pinch Cumin
1/4 teaspoon Goya
pinch Chili powder
1/2 tablespoon butter
1/2 of a cup Queso Fresco
Salt and pepper to taste
1/2 avocado
Nutrition Information
Yield
2
Serving Size
1
Amount Per Serving
Calories

612
Total Fat

30g
Saturated Fat

10g
Trans Fat

0g
Unsaturated Fat

16g
Cholesterol

401mg
Sodium

582mg
Carbohydrates

60g
Fiber

17g
Sugar

7g
Protein

32g
This is an estimation of the nutritional values. Actual amounts may vary.